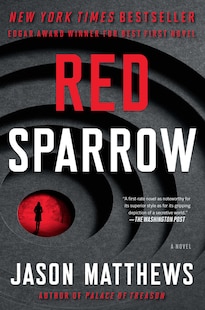 In present-day Russia, ruled by blue-eyed, unblinking President Vladimir Putin, Russian intelligence officer Dominika Egorova struggles to survive in the post-Soviet intelligence jungle. Ordered against her will to become a "Sparrow," a trained seductress, Dominika is assigned to operate against Nathaniel Nash, a young CIA officer who handles the Agency''s most important Russian mole.
As the action careens between Russia, Finland, Greece, Italy, and the United States, Dominika and Nate soon collide in a duel of wills, tradecraft, and-inevitably-forbidden passion that threatens not just their lives but those of others as well. As secret allegiances are made and broken, Dominika and Nate's game reaches a deadly crossroads. Soon one of them begins a dangerous double existence in a life-and-death operation that consumes intelligence agencies from Moscow to Washington, DC.
Occasionally I like to change up my reading routine with a good spy thriller. Enter Red Sparrow; the debut effort from Jason Matthews who is a 33-year veteran of the CIA. Red Sparrow is not filled with action sequence after action sequence but it does not need this to completely engage the reader. I love Ludlum's Jason Bourne series like everyone else but Red Sparrow is at another level. More similar to le Carré's Tinker, Tailor, Soldier, Spy. Psychological, crafty, multi-layered. There is superior characterization, a grittiness and bleakness to the writing.
The author is very patient at evolving the story of the main characters. You are given a lot of information about the business of spying, the relationships, tensions and twisted motivations of the characters and none of this description is superfluous or boring. There are jewels of tradecraft language sprinkled throughout. As a reader the story felt to me like looking through a telescope sharply in focus.
Red Sparrow was immersive, compelling, undeniably honest and chilling. The book's summary does not do this novel justice. If you are attracted to spy thrillers, this novel is worthy debut into the genre and a must read. I also recommend Red Sparrow to those who have an interest in American-Russian relations and politics.
My Rating:
4.5
ChaptersIndigo
Amazon